Bucklige Welt – Linking local product marketing and tourism offers – gaining experience and workshop (Info-Cafe)
In projekt Shop of Region, another Info-Café event took place on 8 April 2022. This time, the focus was on the marketing of local products and related tourism offers, followed by a professional workshop in Bucklige Welt.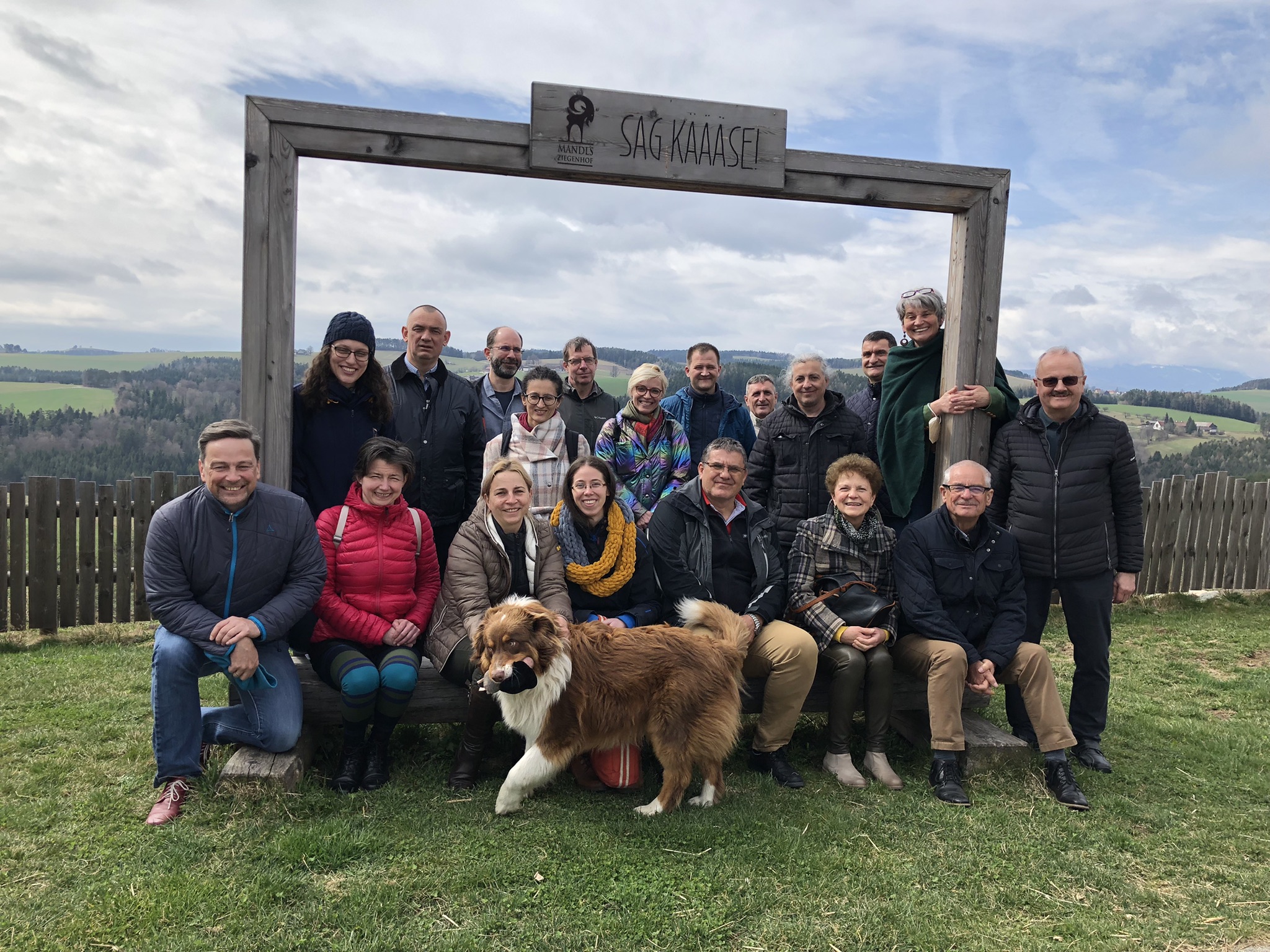 ---
The 2nd Info-Café event of the project will be hosted by innovative local product producers from Lower Austria. These enterprises are not only at the forefront of product production, but have also developed their own sales outlets (shops) and services and offers linked to the product, thus broadening the range of products and services and aiming at a higher added value.
The day started at the Eis Greissler ice cream factory in Krumbach, which has grown into a complete family attraction. The family business has been involved in cattle breeding and dairy farming, selling school milk for 15 years, before opening its first producer ice cream parlour in one of Vienna's most touristic districts in 2015. In the face of very strong competition, they have become a focus of interest thanks to their special and very tasty ice creams (e.g. pumpkin seed oil ice cream, goat cheese ice cream). Today, the company produces only ice cream, sells throughout Austria and has 10 ice cream shops of its own. A restaurant with a preference for local products, a local produce shop, a huge playground and a 5D cinema and time travel experience for families. In 2019 they had 80,000 visitors.
The programme continued at the Mandl'sZiegenhof goat farm, where 250 goats are reared and premium quality organic goat cheese is produced. The family business used to keep cows, but they switched in 2012. The farm supplies the Rewe Group and a number of smaller grocery stores, as well as a local produce shop and vending machine on the farm. It is worth mentioning that the online grocery store gurkerl.at is an important sales channel in Vienna and the immediate vicinity. The farm has also been awarded a sustainability prize, as it is important not only for animal welfare but also for energy self-sufficiency.
Lunch was at the Krumbacher Hof restaurant and inn, which is almost the only major accommodation provider in the area. The restaurant's manager places great emphasis on regionality, sourcing what he can from local producers, so vegetables, meat, dairy products and even fish are all locally sourced. It's a cyclist-friendly place to stay and is also a certified mountain bike accommodation. During lunch, a local producer was introduced, and we were able to taste Kölbel pálinka from the region.
After lunch we visited the Schwarzbräu regional brewery, where after a short tour of the brewery we started working together. The brewery serves the region, supplying also the towns of Neukirchen and Wiener Neustadt, but mainly satisfying local demand. In addition to a few regular beers, they usually have seasonal specialities.
The participants jointly evaluated the tourism offers and businesses they had seen during the day. Laura Bazsóné Bertalan presented the tasks carried out so far and their results, as well as a brief outline of the current concept of the shop.
For the future of the project, it was important to also discuss that Vienna cannot be the only destination, although the possibilities certainly seem positive. A business plan should be developed for other cities, whether Budapest, Győr or other smaller centres. Among the Austrian participants, Roman Wappl also underlined the importance of supplying local food to smaller settlements in urban deprived areas, which could be a target for future cooperation.
During the day, we gained an insight into the activities of the rural development and tourism association "Sooo schmeckt die Bucklige Welt". The main objective of this organisation is to bring together local producers in an area of urban deprivation and to support them in the development of market access, gastronomy and tourist attractions. The representative of the organisation, Fritz Trimmel, expressed his concerns about the establishment of a local produce shop, sharing his negative experiences in the past. He pointed out that with low turnover, it is impossible to extract high rents and staff wage costs. Without grant funding, it is almost impossible to sustain such a business. Fritz Trimmel offered to share his experience, not only in running his own regional produce shop, but also in supporting local producers. Mayor Michaella Walla is also at our disposal for this.